A TEAM OF CHAMPIONS.
The most successful endurance sports team in history.
The Bahrain Victorious 13 Team.
An innovative concept unparalleled in endurance racing.
The vision of His Highness Sheikh Nasser bin Hamad al Khalifa, Representative of His Majesty the King for Humanitarian Affairs and Youth Affairs, BV13 features an all-star stable of athletes.
13 of the world's very best. Olympic medallists, world champions, and the rising stars that will move the sport forward. Each one with a focus on key triathlon titles, from the Super League short course triathlon series, through to the World Triathlon Championship Series, the 2024 Paris Olympic Games and all key long-distance titles, culminating in the Ironman World Championships.
Every victory helps to promote a culture of health and wellness and endurance sporting excellence across the Gulf region and beyond.
HH Sheikh Nasser Bin Hamad Al Khalifa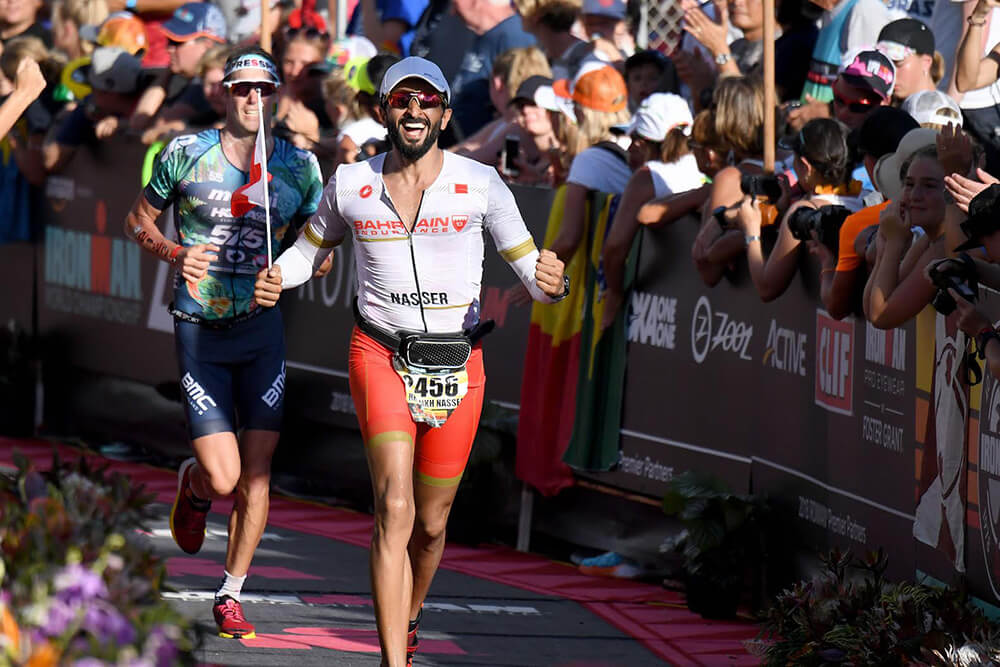 His Highness Sheikh Nasser believes that through triathlon, people can enjoy a better life.
An avid supporter of endurance sports in the Kingdom of Bahrain and the GCC, the prince has been participating in endurance sport for many years and is an accomplished long-distance triathlete, leading his people by example. He sees the attributes that successful endurance athletes possess – hard work, commitment, structure, goals and a focus on health and wellness – and the value of each to the people of Bahrain.
The creation of the Bahrain Victorious 13 stands as an example and an inspiration to every Bahraini. On track to be the most successful endurance sports team in the world, each member is a role model for the qualities that the prince is endeavouring to promote across the Gulf, not just in triathlon but in all aspects of sport and life.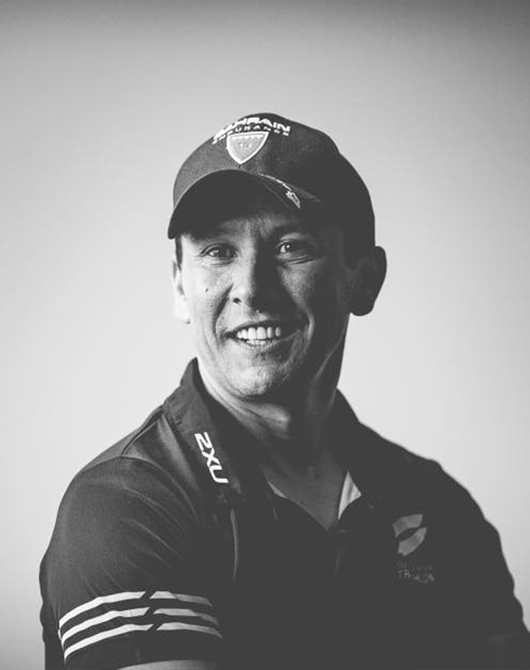 When it was launched, the Bahrain Victorious 13 concept was, like so many pivotal innovations, completely new to the world of triathlon. His Highness Sheikh Nasser Bin Hamad Al Khalifa brought 13 of the world's best athletes together into the most successful endurance team in the world. It was unprecedented, and quickly became an inspiration for every Bahraini – something they could be proud of, promoting individuals of such class and character that they naturally became aspirational figures. They are the global representatives of his vision, pursuing excellence on the biggest stage but returning to Bahrain each year to work with the youth, schools and sports clubs to ensure that culture of success was passed on to future Bahraini sports stars.
The beauty of the whole idea was that it began with one man's vision. H.H Sheikh Nasser simply had an idea and the motivation to pursue it, and it has forever changed the direction of triathlon, the world's fastest-growing sport and the sport he loves.
I first met HH Shaikh Nasser in 2013. Already a very competitive triathlete, we spoke about his wanted to lead his people by example and showcase endurance sport as an approach to life. Something that was about taking part and challenging yourself, as opposed to just being a spectator. Early in 2014, His Highness Sheikh Khaled Bin Hamad Al Khalifa invited me to one of the toughest endurance swimming challenges ever undertaken, and I witnessed his swim from the Kingdom of Saudi Arabia to the Kingdom of Bahrain. It was then HH Shaikh Nasser first discussed this vision he brought to life less than 12 months later as Bahrain Victorious. His Highness appointed us to lead this vision and ensure this was implemented successfully. The Bahrain Endurance 13 team — his lucky number — was born in 2015. From its inception, BV13 represented a powerful message both to triathlon and to the global sports world – the inclusive, gender-balanced pursuit of excellence both in results, and in character.
Nine years on, BV13 is the most successful endurance team in history with 37 world titles, 5 Olympic medals won, and a legendary high-performance culture. A position on the team is one of the most sought-after accolades an endurance athlete can achieve. Team racing is now a huge part of the sport, and the BV13 is undisputedly the most powerful racing team on the planet.
His Majesty King Hamad Bin Isa Al Khalifa has also become a huge advocate, gracing us with his presence and support on many occasions. He met with the team in 2016 and 2017, joining our team photo and sharing with all of us his dream for the team over the next decade. In 2019 he attended the Ironman 70.3 world championship in Nice, France where Daniela Ryf and Holly Lawrence brought home gold and silver wearing the branding of Bahrain. He was at the finish line to present them with their medals. Knowing our home of Bahrain backs our global efforts is something we are very proud of.
The BV13 concept has resulted in a huge increase in participation sport events in the Kingdom. This has coincided with the growth of the Bahrain triathlon federation, the development of the NBH Triple Crown – currently the biggest prize purse in the sport, the success of Bahraini triathletes at the Asian Games and even the selection of the first Arab professional cyclist to race the World Tour.
These are all steps along the path to realising a long-term aim: for this team to be spearheaded by young Bahrainis, the beneficiaries of exposure to these world-class athletes. They will lead the Gulf region and their Kingdom into the future within the sport of triathlon, which Bahrain has made its own and within which it continues to be impactful year on year.
It is a true honour, as a former multiple world champion and now team director and CEO, to lead this team and to drive the ambitions of all the people of Bahrain in its continued success, from global impact to local integration.
HH Sheikh Nasser won his Ironman world title for the team in 2018, making the sport of triathlon aware not only of his ability as an athlete but of the power and legacy of his leadership. His words to us post his victory have become our rallying cry: #TogetherWeAreBetter.
In 2019, His Highness stood down from his position to allocate a spot to Paralympic triathlete Lauren Parker. He directed us to ensure selection of athletes and para-athletes from all distances over the next 5 years, with a focus on Olympic representation and consistent success in pursuing the sport's biggest titles.
| | |
| --- | --- |
| | ITU Triathlon Mixed Relay World Championship |
Ironman World Championships
2015
Daniela Ryf & Jan Frodeno
2016
Daniela Ryf & Jan Frodeno
2017
Daniela Ryf
2018
Daniela Ryf
2018
HH Sheikh Nasser won the corporate division
2019
Jan Frodeno
2020
Not held
2021
(held on May 8 2022) St George, UTAH
Daniela Ryf | Kristian Blummenfelt | Lauren Parker
2022
Lauren Parker
 
Ironman 70.3 World Championships
2015
Daniela Ryf + Jan Frodeno
2017
Daniela Ryf + Javier Gomez
2018
Daniela Ryf + Jan Frodeno
2019
Daniela Ryf
2020
Not held
2021
Lauren Parker
2022
Kristian Blummenfelt
 
ITU World Long Course
2016
Jodie Swallow
2019
Javier Gomez
 
Olympic Champions
2021

Kristian Blummenfelt – Individual Gold

Georgia Taylor-Brown – Individual silver + Mixed Relay gold

Vincent Luis/Cassandre Beaugrand – Mixed Relay bronze

 
Paralympic Champions
2021
Lauren Parker – Silver
 
ITU Triathlon World Championship
2015
Javier Gomez
2019
Vincent Luis
2020
Vincent Luis
2021
Kristian Blummenfelt
 
ITU Triathlon Sprint World Championship
2022
Georgia Taylor-Brown (UK)
 
ITU Triathlon Mixed Relay World Championship
2019
Vincent Luis (France)
2022
Vincent Luis / Cassandre Beaugrand (France)
 
ITU Paratriathlon World Championship
2019
Lauren Parker
2020
Lauren Parker
2022
Lauren Parker
 
Nasser bin Hamad Triple Crown
2015
Daniela Ryf
Meeting of Minds

Chris McCormack meets HHSN
Announcement of NBN Triple Crown
Inaugural Challenge Bahrain, the first half distance triathlon in the Kingdom

Team Launch

5 world titles including unprecedented 5th for Gomez
Frodeno and Ryf the first athletes to hold Ironman World, Ironman 70.3 World, and Ironman European titles simultaneously
Ryf wins NBN Triple Crown
Ironman 70.3 Bahrain announced as Middle East Championship

Records Broken

Frodeno breaks iron distance world record by 5 minutes
Frodeno & Ryf defend Kona titles, Ryf breaks course record
Swallow wins ITU Long Course World Championship

Becoming Legendary

Gomez wins second Ironman 70.3 world title
Ryf defends Ironman and Ironman 70.3 world titles, first female to win the Ironman 70.3 world title 3 times; joins the ranks of legends with three consecutive wins in Kona
Brownlee joins BE13, begins long-course campaign

Sweeping the World

HHSN joins BE13 roster, wins Ironman world title for military division
Frodeno outruns Brownlee and Gomez for a BE13 sweep of the Ironman 70.3 world championship
Ryf defends Ironman and Ironman 70.3 world title for 4th time

Breaking New Ground

Frodeno wins 3rd Ironman world title, breaks course record
Ryf and Lawrence take gold and silver at Ironman 70.3 world champs in the presence of His Majesty the King
Luis wins ITU world title
Gomez wins ITU Long Course world title
Parker is first para-athlete to join BE13, wins paratriathlon world title
Blummenfelt breaks 70.3 world record in Bahrain

Holding Firm

Luis defends ITU world title, the only world championship event to be held due to the global pandemic
Brownlee successfully straddles Olympic and long-distance triathlon racing to remain a contender for Tokyo
Frodeno completes Ironman at Home, raises funds for hospital charity
Ryf refocuses to finish baccalaureate degree

New Blood

Olympic athletes Beaugrand, Mislawchuk, Schoeman added to BE13 roster
Blummenfelt wins Olympic gold in men's individual triathlon
Beaugrand and Luis win Olympic bronze in inaugural mixed relay
Parker wins Paralympic silver
Frodeno breaks ironman world record at Tri Battle Royale; Blummenfelt betters it at Ironman Cozumel

Reaching Greater Heights

Blummenfelt becomes first man to become Olympic champion, World Triathlon champion, and Ironman world champion in span of 12 months
Ryf takes her fifth Ironman world title, overtaking Chrissie Wellington's record
Blummenfelt and Skipper record sub-7 hour times over the full distance at Sub7 Project
Bahrain Endurance 13 rebrands as Bahrain Victorious 13, acquires first franchise in Super League Triathlon teams event

Onwards and Upwards

In the very near future, BV13 will be spearheaded by young Bahrainis who will lead the gulf region and their Kingdom into the future within the sport of triathlon
One of the most important parts of the Bahrain Victorious 13 is the annual gathering in Bahrain each year to race, but also to conduct school visits and training camps to strengthen the connection between the team and the nation from which it was borne.
The side-effect of this annual pilgrimage is the development of Bahrain as a sought-after destination for endurance sports events. The Ironman 70.3 Bahrain and The Triple Crown were established to support this new appetite, with the Bahrain event among the world's fastest racing courses and the most popular racing destinations in the world.
It isn't only the elite end of endurance sports that have enjoyed this increased exposure. Through the Nasser Bin Hamad Foundation, His Highness is driving the youth of Bahrain to pursue the lucrative positions of the 13 athletes announced to the team each year. Already three huge emerging talents are on track to enter the team by the Paris Olympics in 2024. The impact of giving Bahrain youth access to the world's best athletes has been one of the most powerful measures of the success of the team. This vision is clearly articulated in the athlete contracts and are constantly reiterated by HH Sheikh Nasser in his long-term vision for the team.
The Bahrain Victorious 13 team was established to be internationally competitive, carrying the flag of the Kingdom of Bahrain within the triathlon world, professional sport, and media. Through its successes the team continues to expand its own fame and prestige as well as that of its Patron and the Kingdom of Bahrain.
The Bahrain Victorious 13 team strives always to increase its impact through success on the world stage.
The BV13 team is the pride of Bahrain. Through ambassadors of unmatched quality, gender equality and equal opportunity for success, it looks to create an inclusive environment which promotes strength through team culture. This has made BV13 the most successful team in the history of endurance sports, winning almost 80 percent of races.
The team bonus structure allows team members to benefit from the success of their teammates has created a high-performance culture that is the envy of world sport. It has also created a unique environment unlike any professional sports team in the world: athlete salaries are kept low and regardless of who you are or what you have done in the years past, your value in the team year-on-year is delivered through performance.
This competitive internal culture has created the most dynamic and successful racing operation in world sport. The long-term vision and the measure of success of the team, however, will fundamentally be derived when we see young Bahraini talent as members of this team and looking to bring world titles home to the Kingdom. This is the drive and the hopes of our Patron and something we are close to realising as we approach the Paris Olympic Games and beyond.